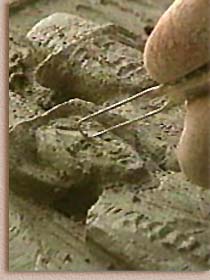 Richard Gill Clay Workshops (photos)

CLAY RELIEF SCULPTURE:
Sculpt your own wall plaques in clay. Learn how to sculpt your house, landscape, flowers, human figures, whatever in relief sculpture. Using simple modeling tools you will learn foreshortening to give an illusion of much greater depth.
No previous experience with clay or art is required. All pieces will be glazed & kiln fired.
All tools will be provided.

INTRODUCTION TO CLAY:
You will learn handbuilding as well as sculpting techniques such as: pinched, coil and slab construction along with relief and three-dimensional sculpture.



Richard is offering a 2018 Weekend Workshop in clay-relief sculpture):

November 17 & 18
9 to 4pm - $350 plus hst $45.50 total $395.50 includes lunch and all materials, minimum of 3 to 6 students.

We also have a charming guest house on site that sleeps 3, single or double occupancy $100 per night, triple occupancy $150
(see photos here)

Contact us for more details or to discuss payment options. 613-433-9990